Port Macquarie's second-hand caravan dealership
Looking to travel in comfort? Look no further than a quality used caravan from Caramart Caravans & Trailers in Port Macquarie. Whether you're going on a weekend trip or holidaying across Australia, we've got an affordable caravan to suit your needs. We stock a wide range of second-hand caravans from renowned brands.
New age manta ray - 2018 Model
Main Features :  
2 x 150 A.H Batteries 
Solar Panel
Roof top air-conditioner
Full en-suite
front load washing machine
Queen island bed
Cafe dinette with tri-fold table
2 door fridge / freezer
3 gas 1 electric stove & grill
Microwave
Stereo 
TV/ DVD  
Winegard antenna
Internal & external speakers
external TV point
Roll out awning 
Full annex
Grey water tank 
Fresh water tank
Fold down picnic table
2 x 9 kg gas bottles
Gal 6″ A frame & chasis
2″ lift suspension
ESC
Tunnel boot 
+ front boot
Weight                                         
Tare : 2290
GVM : 2750    
ATM : 2880              
Length : 20′
Registered till April 2020
elite balistic - 2016 Model
DRASTICALLY REDUCED
Features :
Full OFFROAD
Shower / Toilet Combo 
Air-bag suspension
built in compressor & connection 
roof top air conditioner
2 x 150 A.H batteries & charger
3 x solar panels
Island bed, innerspring mattress
Leather club shaped dining
Large kitchen & bench space
3 gas 1 electric stovetop, grill & oven
Microwave
2 door compressor fridge freezer
TV / DVD & kingjack antenna
Fusion stereo
checker plate armour undercarriage
fully sealed galvanised flooring
roll out awning
ESC
Slide out BBQ
Slide out for generator
extra toolbox on front 
Tare : 3023
GVM : 3215     
ATM : 3500                
Length : 20'10"
Registered 
till March 2020
Your Price: $58,000.00  HUGE SAVING!!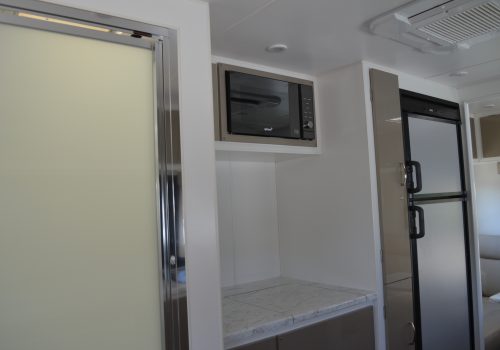 Jayco Silverline - 2015 Model
Main Features :  
Battery & Solar Panel
Roof top air-conditioner
Full en-suite including washing machine
Slide out east / west bed
Club style leather dinette 
185 lt 3 way 2 door fridge / freezer
3 gas 1 electric stove, oven & grill
Microwave
Fusion Stereo 
TV/ DVD  
Winegard antenna
Roll out awning 
External TV point & bracket
Fold down picnic table
2 x 9 kg gas bottles
Weight distribution kit
Rear view Camera
Weight                                         
Tare : 2677
GVM : 2900    
ATM : 3145              
Length : 24′
Registered till December 2019
Jayco heritage - 2003 Model
Features :
roof top air conditioner
battery 
Separate shower & toilet
Battery for 
East / West bed
L shaped dining 
Separate lounge
4 gas stovetop, grill & oven
Microwave
100 lt 3 way fridge freezer
TV & winegard antenna
DVD player + CD player 
Large wardrobe
roll out awning
full annex
weight distribution kit
+ lots of little extras
Tare : 1801
GVM : 2019      
ATM : 2201                 
Length : 19'6″
Registered 
till December 2019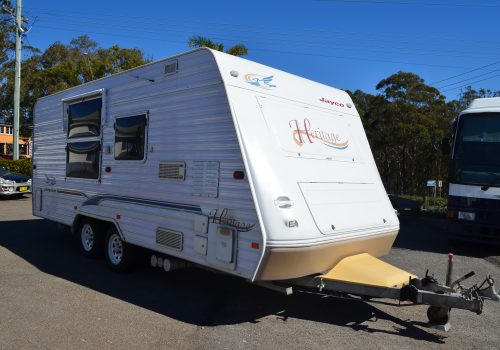 Supreme Spirit - 2010 model
Battery & charger
slimline roof top air-conditioner
Full en-suite + washing machine
Island bed
3 way 186 lt 2 door Fridge/ Freezer
3 Gas 1 electric Stovetop, Oven & Grill
Microwave
L shaped Dining
TV / DVD 
Stereo 
Winegard antenna
Internal & external speakers
Roll Out Awning with full annex
2 x gas bottles
Fold down picnic table
2 x 4 season hatches
Weight                                         
Tare : 2029
GVM : 2203
ATM : 2429    
Length : 20′
Registered till March 2020 
Jayco heritage - 2003 Model
Features :
roof top air conditioner
battery 
Separate shower & toilet
Battery for 
East / West bed
L shaped dining 
Separate lounge
4 gas stovetop, grill & oven
Microwave
100 lt 3 way fridge freezer
TV & winegard antenna
DVD player + CD player 
Large wardrobe
roll out awning
full annex
weight distribution kit
+ lots of little extras
Tare : 1801
GVM : 2019      
ATM : 2201                 
Length : 19'6″
Registered 
till December 2019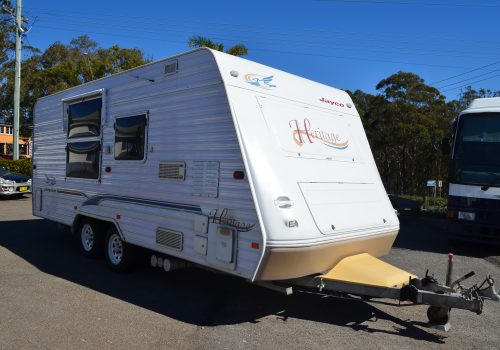 CONCEPT ASCOT II - 2007 model
Main Features :  
Solar panel
2 x house batteries
Roof top air-conditioner
Island bed
3 way 2 door Fridge/ Freezer
4 Gas burner Stovetop, Oven & Grill
Microwave
TV, JVC stereo
Cafe / Club dinette
Roll Out Awning with full annex
2 x 9 kg gas bottles
Fold down picnic table
Weight                                         
Tare : 2010
Length : 20′
Registered till October 2020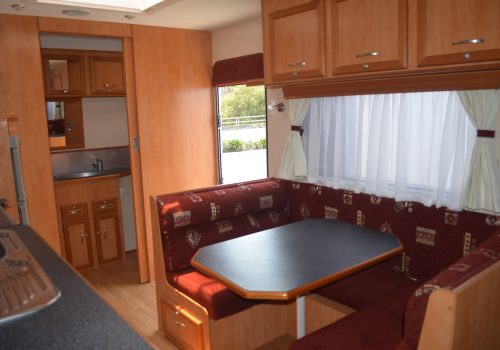 Features :
Heron 2.2 air-conditioner
3 way 140 lt Fridge/ Freezer 
3 Gas 1 Electric burner Stovetop & Grill 
Microwave
L shaped Dinette 
TV – DVD  
Queen Island Bed & Brand NEW Inner Spring Mattress
2 x 4 season hatches
Roll Out Awning with full annex
2 x 9 kg gas bottle
Facilities for house battery
Length : 18′
Weight                                  
Tare : 1330
GVM : 1480
ATM : 1600
Registered till May 2019
Opalite Skoot - 2015 Model
Main Features :  
Full en-suite
Island bed, innerspring mattress
3 way 148 lt Fridge / freezer
Microwave
3 gas 1 electric stove & grill
Microwave
Cafe dining, tri-fold table
TV connections
Winegard antenna
Roll out awning with shade walls
2 x 9 kg gas bottles
Slide out for generator (No generator)
Weight                                         
Tare : 1820
Length : 19′
Registered till June 2020
                     Your Price $27,000.00
Supreme Territory - 2008 Model Semi-offroad
Main Features :  
Semi-offroad 
Hot dip gal chasis
Roof top air-conditioner
130 W Solar Panel & Battery
L shaped dining (can convert to bed)
120 lt 3 way fridge / freezer
4 gas burner stove top, oven & grill
Stereo / CD player
TV connections  
Island bed
Port-a-loo
Roll out awning
Twin 4.5 kg gas bottles
Front tool box + boot space
Weight                                         
Tare : 1680
GVM : 1800       
ATM : 1919                  
Registered till June 2020  (QLD)
Your Price : NOW $19,990.00    WAS $21,500.00 
Main Features :  
Spacious Shower Toilet Combo
Heron 2.2 air-conditioner
3 way 100 lt Fridge/ Freezer
4 Gas burner Stovetop, Oven & Grill
Microwave
TV
L shaped Dinette – re-apholstered
Twin single Beds & Inner Spring Mattress
Roll Out Awning with full annex
2 x gas bottle holders 1 x 9kg gas bottle
Solar & 2 x batteries
Large Wardrobe
Portable Washing Machine
2×4 Season Hatch
Pole Carrier
New Horizontal Blinds
Weight                                         
Tare : 1580
Length : 20′
Registered till February 2020 
sold
REGENT MONARCH 2014 MODEL
Features :
2 x Batteries
2 x Solar panels
Roof top air-conditioner
Queen Island bed
Full en-suite with washing
Cafe dinette, tri-fold table
2 Door 3 way Fridge/ Freezer
3 Gas 1 Electric burner Stovetop, Grill & oven
Microwave
Internal & external speakers
TV ; Stereo ; King Jack Antenna
External TV points
2 x 9 kg Gas bottles
Hitchmaster D035  
weight distribution kit
Front boot + tunnel boot
Roll out awning
External Picnic Table
Tare : 2335
GVM : 2785                                
Length : 21'10
Registered 
till June 2020
SOLD
New Age "Little Joey" - 2010 Model
Features :
Rear entry door
Solar, Battery & Charger
Roof Top Air-conditioner
Island Bed – Inner spring mattress
Cafe dining with Tri-fold table
3 gas stovetop & grill
3 way 90 lt Fridge / Freezer
Microwave
Stainless sink
Skylight
TV/DVD & CD player
Winegard antenna
2 x Roll Out Awnings (1 rear & 1 side)
fold down picnic table
external 12V plug & TV connections
Tare : 1508
GVM : 1682               
Length : 14'6
Abbey Spectrum - 2009 Model
DEPOSIT TAKEN 
Main Features :  
Fully insulated
Spacious full en-suite
Cafe dining – easily converts to bunks 
Twin single beds – easily converts to double bed
Large wardrobe in bathroom
3 gas 1 electric stove, oven & grill
Microwave 
100 lt 3 way fridge / freezer
Stainless sink – removable washboard
TV
Gas heating
Roll out awning
9 kg gas bottle
Weight                                         
Tare : 1360
Length : 20′